It's either 'fake it 'til you make it' or you're rocking the digital wallflower vibes...
When I say 'step into the spotlight,' your inner mean-girl starts pipping up
"Oh gosh, they're gonna see that MASSIVE pimple that just popped up yesterday."
"And I can never find the right angle to make my chin(s) look smaller on camera."
"I can't put on cute clothes every day, Trish, no freakin' way."
Showing up can be nerve-wracking.
Especially when you're not used to being the center of attention.
And double-especially when you don't feel confident in your style, image, and body. 
When you're not sure of yourself, unsolicited comments feel like judgement and a camera pointed at you feels like you're asking for it...
Even though you're besties (bless them) tough-love you with Nobody cares, David! vibes
You can't help but suit up in metaphorical camo whenever someone tells you to 'show up' for your brand.
Where do you even begin when it comes to the B-word?
(Body. That B word.)
I used to let the size of my jeans affect the size of my bank account...
Oooph, let that one sink in
... "I'll book the photoshoot after my cleanse"
... "I'll show up on stories after I get my hair done."
... "I'll pitch that podcast after I strop tripping over my words." 
Those were just some of the things I told myself when I was avoiding showing up, because I didn't think I was worthy enough to embody my purpose. 
So I'd shrink.
Folding myself into this people-pleasing box that made my brand 'safe,' but forgettable.
I didn't realize my embodiment directly impacted my bottom line.
Owning your style is the fastest way to scale your business, get more clients and make more money.
You didn't come into this groovy online business world to be a tiny speck in a sea of radiant coaches.
You want to be taken seriously.
But in a fun, authentically quirky way, of course.
You have a big calling in your heart.
One that isn't meant to stay caged in there.
You have a business to grow.

A community to inspire.

A brand to share.

And a movement to create. 
No more hiding.

 
It's time to get you out there.
From staring nervously in the bathroom mirror to thriving as soon as you hit record

...
Scale in Style

 is a transformation.
It takes you from scrutinizing every detail– that damn Virgo energy, to feeling confident and at home in your style, personality, and unique value that you're sharing with the world.
The women in my world experience:
Showing up powerfully

 

in their brand
Becoming one of

 

those coaches,

 

ya know, the ones you looked up to but thought 'I could never be magnetic and activating like them.'
More income.

 

Because if more people see you, more people have the chance to buy from you.
Bigger opportunities.

 

But even better, the confidence to say yes to them.
A full embodiment of their purpose.

 

And that, my friend, can cause techtonic size shifts in your momentum. ('cause I know you're here to shake sh*t up)
✦ I'm Ready ✦
The 3 Pillars of Scale In Style
WORTHY
Create safety where money, visibility, and impact can flow in when you call it
SEEN
Define your magnetic presence and unapologetically take up space
HEARD
Share your message and step into this expert persona
What's Inside
Scale and Style is the group program for women who want to use style as a tool to increase their magnetic visibility, show up radiantly, and expand their brand & bank account.
How do we do it? Glad you asked.
Bi-weekly Group Coaching
Customized styling feedback and personalized visibility support 2x a month during live hot seat coaching calls (every other Wednesday at 12pm PST):
The STYLE session

 

-

 

I'll give you personalized links to outfit suggestions, help you develop your signature style and dress your body type

The SCALE session

 

- I'll help you customize your visibility strategy to develop a recognizable brand presence
emBODY Framework
Feel confident and at home in your body (just the way it is).
The Unbecoming utilize cognitive-behavioral techniques to rewire old thought patterns and limiting beliefs that are keeping you invisible, inconsistent, and insecure
Upper-Limiting learn practical tools to detach your worthiness to receive MORE of what you want from other peoples expectations of how you should look, behave, or act -- no more playing small
Pleasure Portal start saying YES to yourself, learn radical self-love habits that skyrocket your confidence online
Aligned Style From the Inside, Out
Together, we'll curate a wardrobe that aligns what's on the outside with what's bursting on the inside. Love the way you look. Even better, show up the way you feel.
BEcoming Magnetic Method:

 

Build a recognizable

 

and authentic brand presence that communicates

 

your personality, purpose and brand promise. 
Two-part Style Mochtail:

 

Learn how to use style as a tool to balance magnetic min character vibes with style discover exercises that enhance your personality and work for your body, budget, brand and lifestyle
Seasonal Style Guides:

 

Each season, you'll get access to seasonal guide, outfit inspo lookboook and shoppable catalog.
Color Analysis Workshop: Find the best colors for your brand and your complexion, so you know your go-to shades when you're staring at the rainbow rack.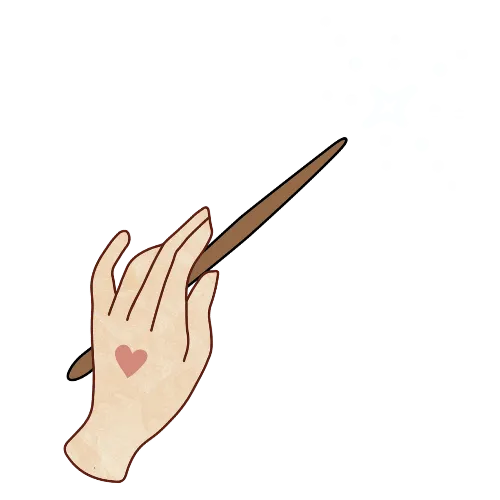 Style Solution Spotlight
Apply for a 1:1 style session with Trish. Each month a member is selected for a 1:1 style session where she'll help you cleanse your closet, align your brand style, or plan your photoshoot.
Think: Queer Eye meets magnetic marketing.
Show Up-Glow Up System
Stuck-in-a-rut content to top-of-mind stories. This 90-Day Story-Selling Speaking Prompt calendar makes it easy to show up, connect, and of course, sell.
Somatic Healing Events
Virtual community events to promote inner healing, brand clarity, and accountability to your visibility goals. With guest expert workshops, you can expand your presence and expression online with a hefty dose of support.
Sistermind Support
Your girl gang is here. Connect, collab, share, and build together in a private community that encourages you to lay it all out there. Biz, style, life, branding, confidence. We don't hold anything back.
They scaled. Their way.
#magneticAF
It's the inner healing for the outer presence...
Join Scale in Style to:
Transform your signature style
Or create one for the first time ever
Create a sustainable visibility strategy
Sustainable = excited to show up. (& consistent cashflow!) It's Possible
Increase your confidence
In an Ariana Grande, high-ponytail way. Except you can absolutely still rock the bob
Who Scale in Style is For?
Let's just say, it's a match made in the cosmos if you're... 
Trying to find a signature style

 

that makes you feel good while also being easy to maintain
In it for the confidence.

 

Sure, the fashion is fun, but you're really here to embody your purpose and show up as HER each day
Struggling with visibility,

 

and you have a hunch it's because camera-ready-you secretly wants to hide in the broom closet whenever you hit record
Hey there, I'm Trish
I'm a former celebrity stylist turned brand and marketing expert.
And I'm popping into your life to help you show up unapologetically, attract your soulmate clients, and feel confident being seen.
With degrees in visual communication, psychology, and clinical counseling –
I move beyond the pretty clothes part of fashion and show you how to use your style to communicate.
And with certificates in styling, somatic healing, and tapping EFT...
I align your outward style with what's going on inside.  
But I wasn't always this bursting bouquet of style confidence and camera-loving energy.
I used to be way more comfortable BTS of my life and business.
Growing up, I was told to speak less, not take up too much space, be polite, and wear what's 'pretty.'
So when I was an adult...
I was stuck in this endless cycle of 'please others and be invisible.'
When I started gaining weight due to burnout...
I questioned my worthiness to even call myself an expert and show up.
And I had 10+ YEARS of celebrity styling under my (Chanel) belt.
It wasn't until I healed my relationship with my body, by working on my mind, that I was able to begin my brand liberation journey. 
Now, for over 10 years,
I show women in business how to shed the 

I'm not worthy

 
... so they can own their style, take up space, and expand their bottom line. 
Because you are not meant to be a Nilla Wafer. It's birthday-cake-Oreo dunked in rainbow sprinkles over here.
✦ LET'S DO THIS! ✦
Style's great. But you're better.
Scale in Style isn't your typical fashion program.
I don't actually give a flying unicorn about that trendy top that 'everyone's wearing' but makes you want to vom. 
As your anti-style stylist, I throw away the rules and focus on your needs.
We take the courageous baby steps together.
We step outside your comfort zone.
We pick clothes that you want to wear, not what Vogue (or TikTok Influencers) want you to wear.
We approach this process with your end visibility goals in mind. 
Because showing off isn't about the label.
It's about the badass (eh hem YOU) wearing the label. Or wearing that thrifted gem of a sundress.
✦ Yes, please ✦
Speaking of badass's...
Listen to what my clients are saying:
Be visible.
Right here, right now.
Not when...
You get to that 'perfect' weight

You finally start liking the way your voice sounds on camera

You starting having 'time' for style

Your friends and family get less judgy

You get more clients

You're ready to be the center of attention 
Why? Because...
>> Your worthiness is not attached to a number on the scale
>> We all sound flippin' weird on recordings 
>> Style isn't a luxury. It's a communication tool you control that directly impacts your profitability.
>> You'll get way more cheers than judgy comments. Even from strangers. Pinky promise.
>> Visibility attracts more clients. Not the other way around.
>> It's not about grasping for attention at all. It's about showing up unapologetically, claiming your expertise and letting those who need you, find you.
Shells? What shells? I don't see any shells.
(These women came out of their shells so completely they vanished away)

 

That awkward 'i-hate-photos-of-myself' vibe is hurting your business.
The antidote?

 
Fully embody your purpose. See your worthiness. Get dressed & build a visual brand honoring that woman.
Love at first session,

guaranteed

😍
Try it & apply it for up to 30 days

risk-free
As a fellow heart-centered entrepreneur and someone on a personal mission to help you blossom into a fully confident, visible entrepreneur…
I want to give you the time and space to be sure Scale in Styl is *the* program to help you finally show up confidently online.
You're welcome to try it and apply it for up to 30 days, and if Scale in Style doesn't speak to your heart, simply email my team ([email protected]) and we'll refund you in full.
How long do I have access?
TRADITIONAL ADVICE SAYS TO "JUST KEEP SHOWING UP, IT'LL GET EASIER." IS THAT TRUE?
I DON'T LOVE BEING THE CENTER OF ATTENTION. IS SHOWING UP ONLINE REALLY FOR ME?
WHAT IF I'VE TRIED EVERYTHING TO FEEL BETTER ABOUT MY BODY AND I STILL JUST DON'T LOVE THE THOUGHT OF GETTING VISIBLE?
Will you help me with what to shop for?
IS THIS AN ONLINE COURSE?
Feel beautiful. Show up powerfully. Be at
home
in your body.
Create magnetic visibility and amplify your impact + income through

Scale in Style